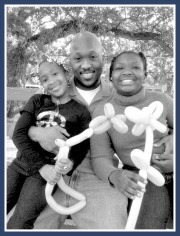 Growing up was hell for Shaytee Gadson: "Daddy was always in some sort of scandal, so the news media was regularly outside in the driveway as we were leaving for school in the mornings," he says of his childhood in rural Hollywood, SC. His mother's focus on God and prayer — and her constant reassurance that his "flawed" father's mistakes had nothing to do with him— got the young Shaytee through each day. "Momma taught me how to pray, Daddy gave me all the reasons to pray," he says.
His years as a political science major at the College of Charleston were a self-destructive battle against alcoholism and depression. He dabbled in poetry, but it wasn't until he dropped out of college at age 22 — suddenly a young dad with no life plan — that he began work on Hallelujah In Hollywood.
"I had to pray every day on this journey in order to sing this hallelujah song," he says of the 10-year writing process. A fulltime dad, he often wrote with his two young daughters napping on his lap. It was a painful, yet cathartic experience of confronting his demons: "It forced me to be truthful about many things I'd been lying to myself about. Yet in the end, it set me free from the labels put on me. I don't mind putting my pain on display for the entire world to see. When you see my pain and talk about it, then yours is alleviated."
A recovering alcoholic, Gadson currently lives in Hollywood with his two children and mother, and remains extremely close to his father. "No matter how many troubles are running around you, if you put one foot in front of the other, if you believe in a power greater than yourself, it will elevate you out of there," he says. "I refuse to let labels define me, and I keep fighting the forces that prevent me from being the person God wants me to be."
Shaytee is a proud member of the Omega Psi Phi Fraternity. This is his first novel.